Rachel is a member of the Animorphs, and the second one to narrate a book in the series.
Canon Rachel
Edit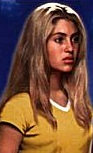 Rachel is close friends with Cassie, though the two of them seem to be polar opposites for the most part.
Rachel is usually the first one to put herself forward when the time comes for the Animorphs to fight, or for any of the more dangerous missions that the group has participated in.
Teknomorphs Rachel
Edit
More Information
Edit