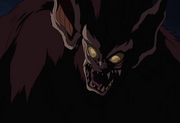 A fairly common sight around the varied branches of Chronos, Ramotith's apelike form likely makes it a great deal easier to process than some of the more exotic Zoanoid models such as Gregole or Vamore. Ramotith is the first type of Zoanoid developed for combat, and has been in use for a great deal of time.
Ramotith stands at 7'5", weighs 300 pounds, and has the physical strength of 10 full-grown men.
Ad blocker interference detected!
Wikia is a free-to-use site that makes money from advertising. We have a modified experience for viewers using ad blockers

Wikia is not accessible if you've made further modifications. Remove the custom ad blocker rule(s) and the page will load as expected.