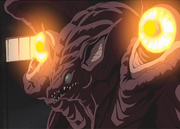 This Zoanoid was first encountered by Sho Fukamachi early on in the series. In the TV series and the manga, a Vamore was first encountered a day after Sho had bonded with the Guyver, leading a group of Ramotith that had been sent to interrogate Sho and Tetsuro.
That one had used the guise of a police detective to conceal his true motives, there are many more of the breed who act as simple troops, manning sniper posts or acting in defense of Chronos' various bases.
Ad blocker interference detected!
Wikia is a free-to-use site that makes money from advertising. We have a modified experience for viewers using ad blockers

Wikia is not accessible if you've made further modifications. Remove the custom ad blocker rule(s) and the page will load as expected.